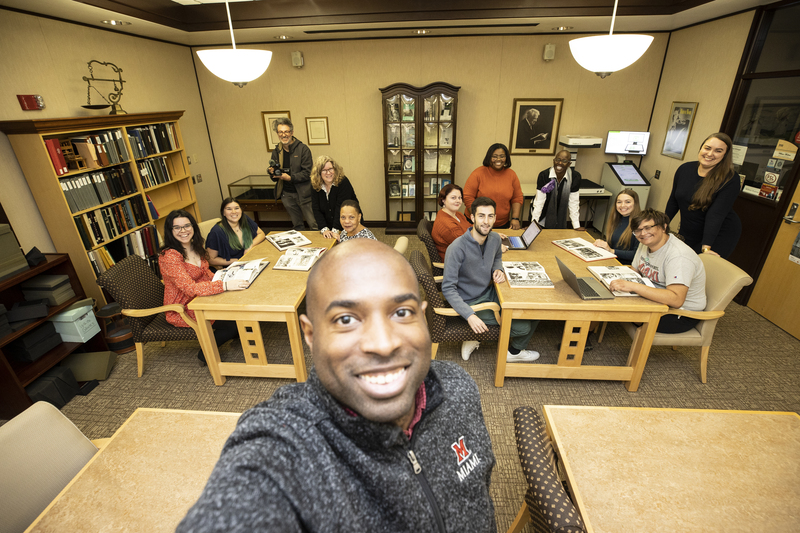 Central to Lived Experiences is the concept of storytelling: the social and cultural activity of sharing stories, sometimes with improvisation, theatrics or embellishment as a means for sharing and interpreting experiences. This interdisciplinary and collaborative project adopts the storytelling approach to exploring the experience of race in Miami University's history to engage students, faculty, staff, and alumni in searching reflection on the history of race relations at Miami and beyond. We believe that institutions that are publicly committed to diversity, equity, and inclusion must offer their communities opportunities to articulate their experience, hear and discuss the experiences of others, past and present, and work together to reconcile these experiences and move toward the goals we have set for ourselves.
Phase One of the Lived Experiences Through Storytelling: Race at Miami University launched in February 2023 with seed funding from the Boldly Creative Initiative at Miami University. The Offices of the President and the Provost were instrumental in supporting the pilot project. Lived Experiences is a collaboration between the Miami University Libraries, University Advancement, the Humanities Center, the Departments of Educational Leadership, History, Psychology, and the Media, Journalism, and Film, and the Oxford community. Additional funding was provided by the Humanities Center and the Greater Oxford Community Foundation.
We especially thank the alumni, staff, and faculty who shared their stories.
Last updated: Jan 2023